Open your account online without visiting back branches
The first month at no extra cost* for account maintenance
Personal manager
The largest private bank with Ukrainian capital
№1
In the nomination "Support in MSB" in "Financial Oscar" rating by "Business" edition version
Banking package for the small business
Service fee
vseMinimum
200 UAH
vseOptimum
350 UAH
vsePremium
750 UAH
Number of electronic payments in national currency outside FUIB
10 free* payments per month
Unlimited number of free* payments for each operation – up to 5000.00 UAH
Unlimited number of free* payments for each operation – up to 100 000.00 UAH
Cash withdrawal using a corporate card in FUIB ATMs and partner banks around Ukraine
0,75%
0,75%
0,75%
Issue of corporate card
1 card
2 cards
2 cards
Virtual card of your choice**:
Visa Business Virtual/MCDebit Business Virtual
Unlimited quantity**
Unlimited quantity**
Unlimited quantity**
Purchase of foreign currency
0,5% of amount
0,4% of amount
To 20 000 USD- 0,3% of amount

from 20 000 to 100 000 USD - 0,2% of amount

for amounts larger than 100 000 USD - 0,15% of amount
Sale of foreign currency
0,4% of amount
0,3% of amount
To 20 000 USD - 0,2% of amount

more than 20 000 USD - 0,15% of amount
Cash depositing to account from the bank cashier
0,2% of amount (min 10 UAH)
0,1% of amount (min 10 UAH)
0,1% of amount (min 10 UAH)
Crediting cash to an account through self-service terminals
No commission is charged
No commission is charged
No commission is charged
Crediting funds to the accounts of individuals within the framework of the "Salary project" service
Free*
Free*
Free*
*Included in the cost of the monthly commission for settlement and cash services of the service package
**Issuance of virtual corporate cards through remote communication channels is carried out exclusively to accounts and in the name of the NAP
vseMinimum
200 UAH
Number of electronic payments in national currency outside FUIB
10 free* payments per month
Cash withdrawal using a corporate card in FUIB ATMs and partner banks around Ukraine
0,75%
Issue of corporate card
1 card
Virtual card of your choice**:
Visa Business Virtual/MCDebit Business Virtual
Unlimited quantity**
Purchase of foreign currency
0,5% of amount
Sale of foreign currency
0,4% of amount
Cash depositing to account from the bank cashier
0,2% of amount (min 10 UAH)
Crediting cash to an account through self-service terminals
No commission is charged
Crediting funds to the accounts of individuals within the framework of the "Salary project" service
Free*
vseOptimum
350 UAH
Number of electronic payments in national currency outside FUIB
Unlimited number of free* payments for each operation – up to 5000.00 UAH
Cash withdrawal using a corporate card in FUIB ATMs and partner banks around Ukraine
0,75%
Issue of corporate card
2 cards
Virtual card of your choice**:
Visa Business Virtual/MCDebit Business Virtual
Unlimited quantity**
Purchase of foreign currency
0,4% of amount
Sale of foreign currency
0,3% of amount
Cash depositing to account from the bank cashier
0,1% of amount (min 10 UAH)
Crediting cash to an account through self-service terminals
No commission is charged
Crediting funds to the accounts of individuals within the framework of the "Salary project" service
Free*
vsePremium
750 UAH
Number of electronic payments in national currency outside FUIB
Unlimited number of free* payments for each operation – up to 100 000.00 UAH
Cash withdrawal using a corporate card in FUIB ATMs and partner banks around Ukraine
0,75%
Issue of corporate card
2 cards
Virtual card of your choice**:
Visa Business Virtual/MCDebit Business Virtual
Unlimited quantity**
Purchase of foreign currency
To 20 000 USD- 0,3% of amount

from 20 000 to 100 000 USD - 0,2% of amount

for amounts larger than 100 000 USD - 0,15% of amount
Sale of foreign currency
To 20 000 USD - 0,2% of amount

more than 20 000 USD - 0,15% of amount
Cash depositing to account from the bank cashier
0,1% of amount (min 10 UAH)
Crediting cash to an account through self-service terminals
No commission is charged
Crediting funds to the accounts of individuals within the framework of the "Salary project" service
Free*
*Included in the cost of the monthly commission for settlement and cash services of the service package
**Issuance of virtual corporate cards through remote communication channels is carried out exclusively to accounts and in the name of the NAP
Online banking
Solve the most important business questions from any device, anytime and anywhere with the Internet

Easy payment sending and money transfer to a personal account by 24/7

Use online statements and forget about visiting a bank office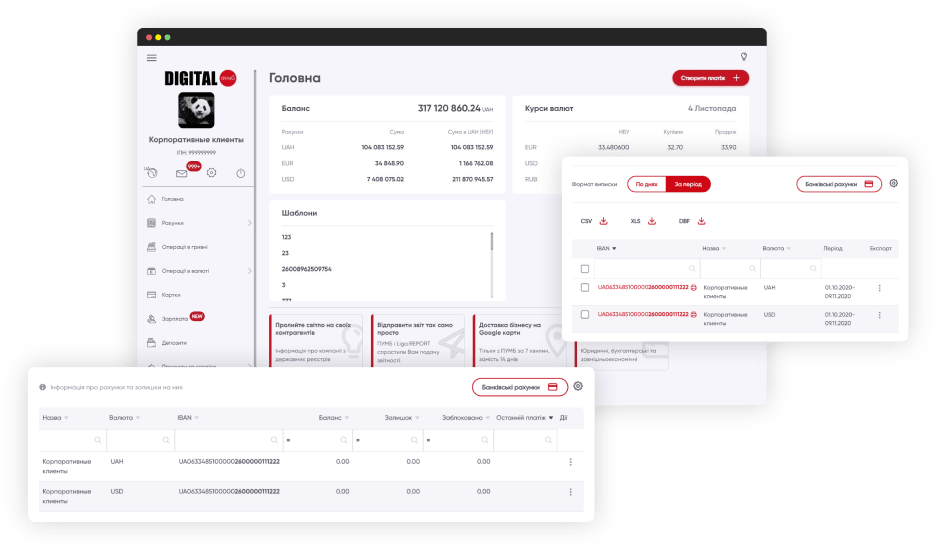 Download PUMB Digital Business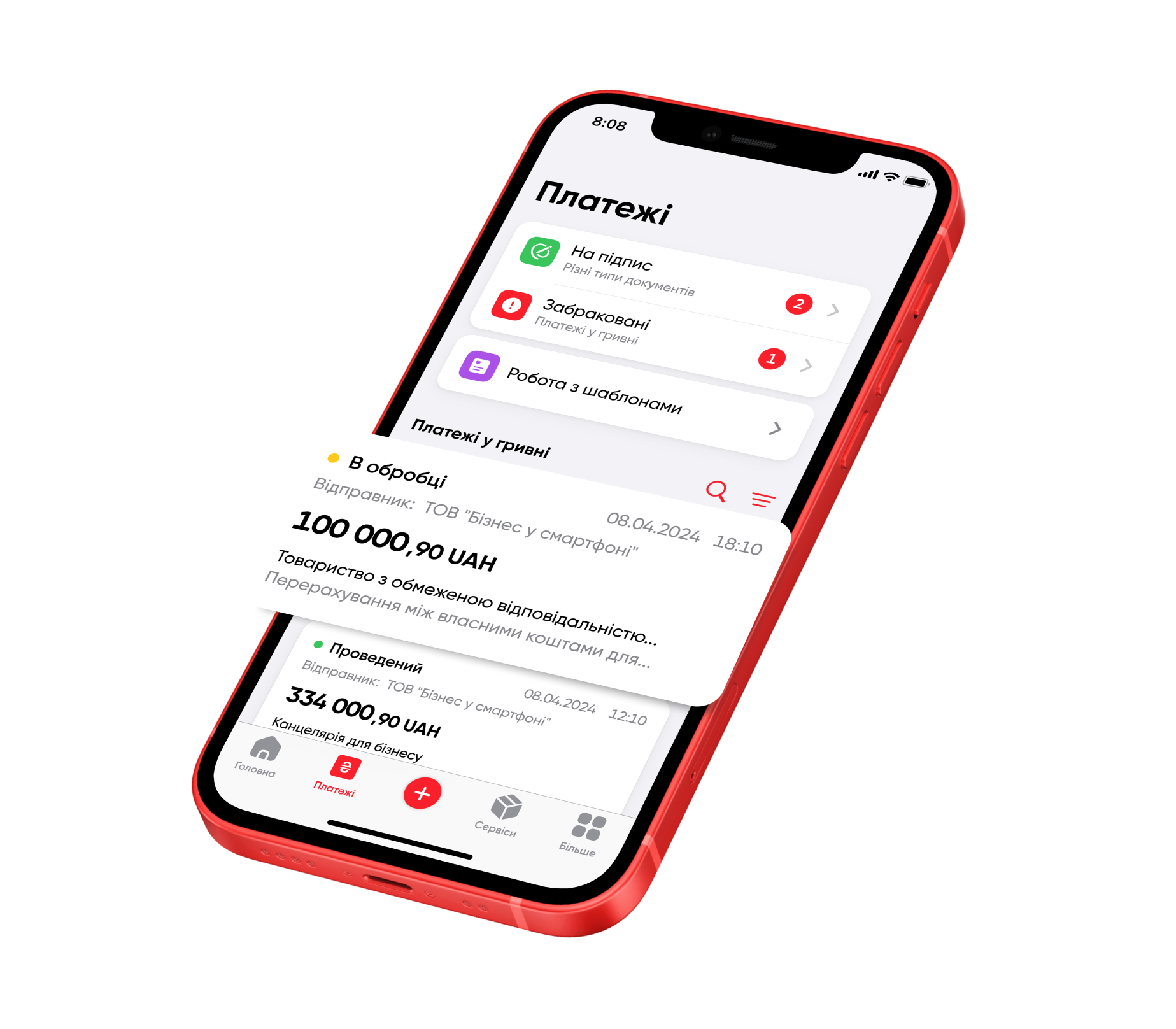 Manage your business easily and conveniently with a wide range "OF" useful solutions:
fast authorization using biometrics
creating, copying payments; using templates
signing payments using biometrics instead of manually entering the key password
corporate card management
working with a QES key: applying for the key issue in case of its absence; signing documents on external platforms by scanning a QR code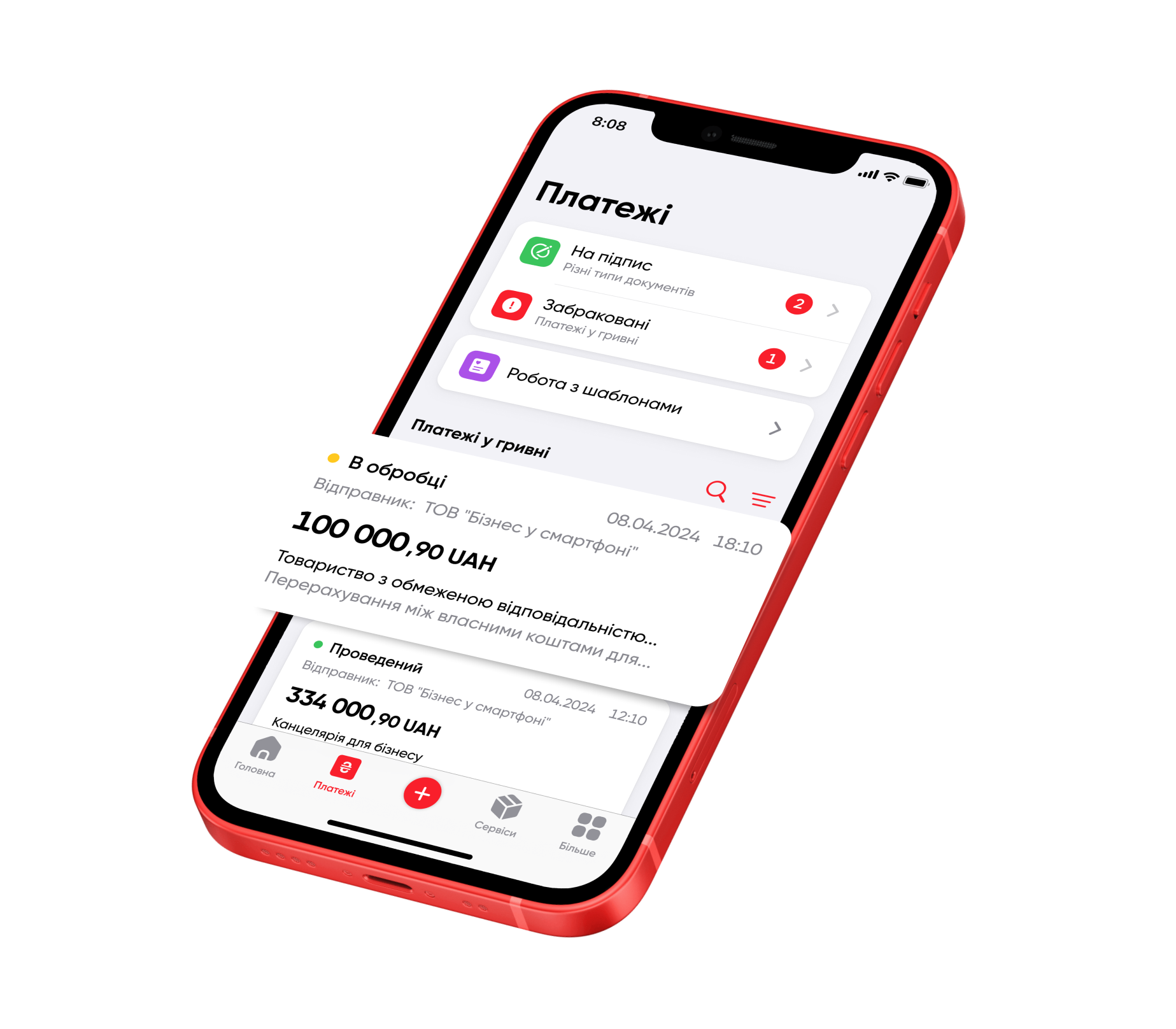 It's easy to work with FUIB
Choose your package
We have prepared simple and transparent packages for everyone. The first month is without additional cost* for the account maintenance
Reserve your account
Make an easy registration of your profile. You will get your account number within 5 minutes.
Confirm documents online
Use any messenger to choose from: Zoom or MS Teams and use the account.